Nissan EV Preparation
Mastria Nissan:


Your Source for Electric Vehicles near Mansfield, MA
If you're weighing electric vehicle vs. gas costs and are thinking of making the switch to a new hybrid or EV, rest assured that Mastria Nissan is prepared to help you enjoy your time on the road. In conjunction with the Nissan brand, our Nissan dealership near Mansfield is fully prepared to assist you with everything from EV maintenance to electric car charging and more. Want to learn what we're doing to prep for the increase in EVs in Massachusetts and beyond? Reach out online or stop by our location today!
Electric Vehicle Charging Stations near Me
Whether you buy a new Nissan LEAF, place an ARIYA preorder or finance a hybrid vehicle elsewhere, it's important to understand how electric car vs. gas car ownership differs. A fundamental aspect of EV ownership is making sure to charge your battery when necessary. Fortunately, our Raynham Nissan dealer makes that easy, as we have electric vehicle charging stations nearby just for you. We have various EV stations located around the building, as well as public charging stations that are available for anyone to use.
Additionally, we have the infrastructure in place to perform essential Nissan EV services. And because Nissan batteries can weigh up to 3,000 pounds, our local Nissan service center is equipped with forklifts and additional tools to take care of your car battery replacements. That means you can schedule EV maintenance with us knowing that our facility is staffed with experts who have the tools and technologies to keep your hybrid SUV or electric car running smoothly.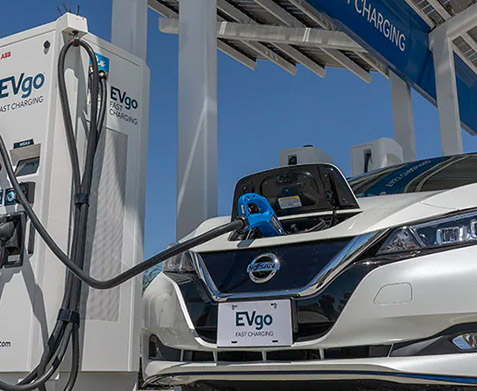 Electric Car Dealerships in Massachusetts
With the demand for electric vehicles, we're here to ensure that New England EV owners are set up for success. We have the state-of-the-art equipment to perform electric car repairs of all types, and our public EV charging stations are in place to assist whenever you need to take a pitstop. We also expect to add more EV chargers to our location in the future, so you can make us your go-to electric car charging station with confidence. Have additional questions about how we're preparing for EVs? Contact Mastria Nissan near Mansfield today!