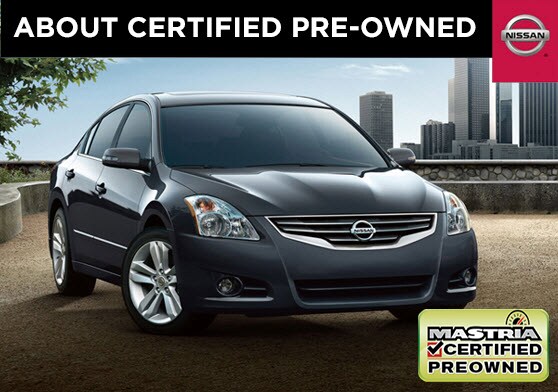 When it comes to buying a car, Massachusetts drivers don't want to settle for just a good deal -- and at our Massachusetts Nissan dealership, we don't want them to settle, either. If you're looking for a pre-owned that functions like new at a fraction of the cost, we have an impressive line up of all makes and models that are sure to meet your needs.
In order to become Mastria Certified, every vehicle undergoes a rigorous 161-point green-label inspection. Yes, 161 point. We are the only leading dealer that completes a check this extensive and sets the bar on our pre-owned vehicle value. Our highly trained and certified technicians thoroughly inspect each pre-owned vehicle, making sure it passes our mechanical, body appearance, structural integrity and safety requirements. Most importantly, all tires on our pre-owned vehicles are checked to ensure a minimum tread depth of 4/32nd  is present. Our pre-owned quality and volume is unmatched with over 300 Mastria Certified Pre-owned inventory, in stock, at all times. Safety and value is first and foremost on all of our vehicles.
Set your worries aside and browse our certified pre-owned inventory by
clicking here
.
See our inspection checklist for yourself.
Click here
to view.